The Lettermen Christmas Show

For more than 50 years , The Lettermen (Donovan Tea, Bobby Poynton and Rob Gulack) have kept the meaning of harmony alive! Back by popular demand with their Christmas show!

Reduced priced tickets Thursday, Friday & Sunday. 8pm Thursday - Saturday, 6pm Sunday.


Event Showtimes:
Ages: All Ages
Thursday pricing: $33/House, $39/Preferred, $49/Cabaret
Friday & Sunday pricing: $39/House, $49/Preferred, $60/Cabaret
Saturday pricing: $43/House, $53/Preferred, $65/Cabaret
Tickets increase $5 half hour before the show.  All sales final, no refunds.  Exchanges may be made for the same show different date only.  Based on availability plus $5 per ticket exchange fee.  See box office for all policies.
Artist website: https://www.thelettermen.com/
 Wiki page: https://en.wikipedia.org/wiki/The_Lettermen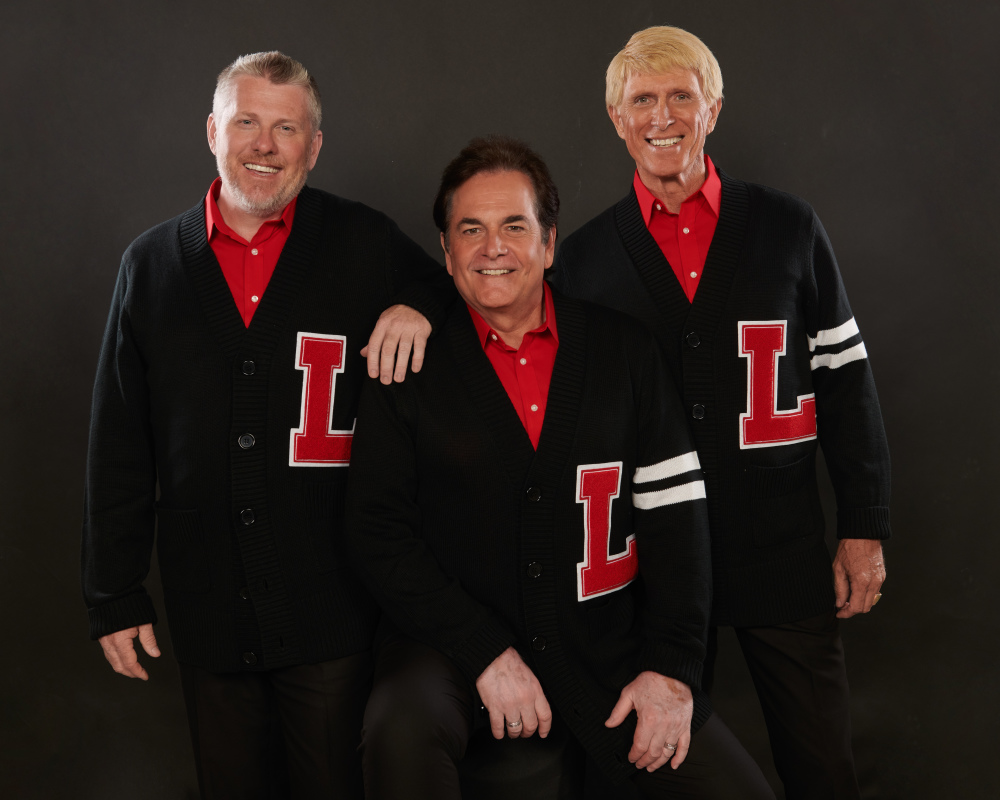 The letter sweaters may only make a brief appearance at each Lettermen performance, but The Lettermen harmony is non-stop. From their first hit in 1961 "The Way You Look Tonight" through current hits of today, the sound is undeniably Lettermen. 18 Gold Albums worldwide and scores of top singles attest to a popularity that has endured through several generations.
With over 10,000 sold out shows to their credit, The Lettermen are constantly sending valentines to their audiences with each note of every love song. Versatility of group members and personal tastes let each display a variety of musical styles – – adapting through years to include whatever the current trend may be.
International audiences attest to the universal appeal of The Lettermen. Successful tours abroad have included visits to Japan, the Philippines, Thailand, Singapore, Hong Kong, France, Mexico, and Saudi Arabia. The music of these true entertainers transcends all language barriers as it romances the soul, and warms the hearts of millions.
Whether singing acapella or backed by an entire symphony orchestra, the Lettermen theme still remains the love song. Lending that well-known harmony to every arrangement, they have proven love ballads have an appeal that knows no boundaries and will continue to stand the test of time for many years to come…
The beautiful voices of the singing trio, The Lettermen, first hit the music charts in 1961 with "The Way You Look Tonight". Their voices blended as oneand after following that first hit with another chart topper, "When I Fall In Love", they were voted best vocal group of that year. The original singers: Tony Butala, Jim Pike, and Bob Engemann continued to stay on top with beautiful harmony and love songs, while becoming one of the top college concert attractions of the 1960's. They brought words to the Percy Faith hit: "Theme From A Summer Place", revived the classic Charlie Chaplin song: "Smile", warmed us with "Our Winter Love", they begged "Come Back Silly Girl", made everyone's "Graduation Day" memorable, and came out, in 1966, with one of the most love Holiday albums ever recorded: "For Christmas This Year". Late 1967 brought about a "Live" album, and perhaps the group's most loved and requested hit: "Goin' Out Of My Head / Can't Take My Eyes Off You".