Martha Reeves & The Vandellas

Motown's most enduring and beloved stars and Rock & Roll Hall of Fame members, Martha Reeves and the Vandellas have legendary hits like "Heat Wave," Quicksand," "Nowhere to Run," "Jimmy Mack," "Bless You," "Dancing in the Street," and more!

Reduced pricing Thursday & Friday. 8pm nightly Thursday-Saturday, 6pm Sunday.


Event Showtimes:
Ages: All Ages
Thursday pricing: $39/House & Balcony, $43/Front of House, $55/Cabaret Tables
Friday pricing: $43/House & Balcony, $53/Front of House, $65/Cabaret Tables
Saturday & Sunday pricing: $53/House & Balcony, $59/Front of House, $70/Cabaret Tables
Tickets increase $5 half hour before show time.  
All sales final, no refunds! Exchanges may be made for the same show, different date only.  Subject to availability and 24 hours notice must be given to the box office prior to original ticket date plus $5 per ticket exchange fee. 
See box office for all policies.
Artist page: http://www.missmarthareeves.com/index.html
Wiki page: https://en.wikipedia.org/wiki/Martha_and_the_Vandellas
Videos: "Heatwave" Live ; "Higher and Higher" Live 1976 ; "Nowhere to Run" Martha Reeves & the Vandellas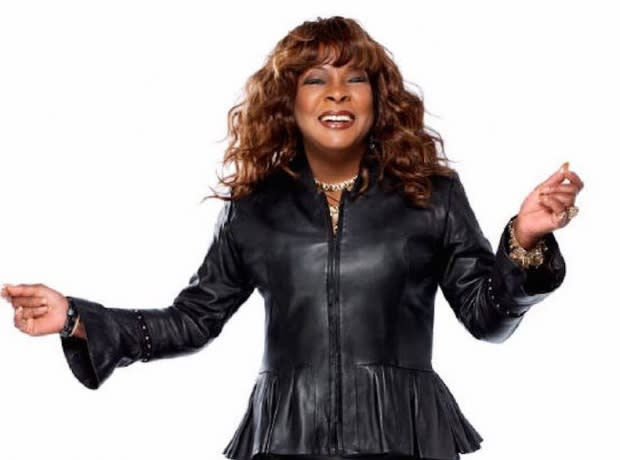 It's been more than 50 years since Martha Reeves first boarded that rented bus along with the likes of The Miracles, Stevie Wonder, the Supremes and Marvin Gaye on the first Motown Review. She and her backup group, the Vandellas, sang behind Marvin and soon hit the charts with their own trifecta:  "Come and Get These Memories," "Love is Like a Heat Wave," and "Quicksand."  Over the next decade, Martha Reeves and the Vandellas would be a constant presence on the music charts, as well as on television and top venues across the US and abroad.
 With the unmistakable voice that helped define "the sound of young America," Reeves reigns today as one of music's most beloved and acclaimed female singers. On stage, she is a live wire:  dancing, strutting, keeping the beat with her trusty tambourine and keeping audiences on their feet as they dance down Memory Lane. Whether performing solo or with the Vandellas, Martha Reeves continues to heat up clubs, concert stages and music festivals, thrilling audiences across the globe, and always leaving them dancing. In 2012, she returned to the Billboard charts with her Top 25 hit, "I'm Not Leaving," recorded with techno DJ duo The Crystal Method, and returned to the Howard Theatre – site of the very first Motown Revue show – for its grand re-opening.  She capped 2013 with a 13-city sold-out solo tour of the UK. Her 2014 "Calling Out Around the World Tour," commemorated the 50th anniversary of the release of "Dancing in the Street."   In 2017, she celebrates 50 years of calling for "Jimmy Mack" to come back.
 Reeves' hits are the thing of legend: In addition to the aforementioned, they include the gospel-tinged "Nowhere to Run," the classic soul favorite "My Baby Loves Me," the pop anthem "Jimmy Mack," and her signature, "Dancing In The Street." While best known for up-tempo, hard driving tunes, Reeves' shows are often highlighted by jazzy renderings of Billie Holiday's "God Bless The Child," her driving original blues "Watch Your Back" (both included in her self-produced CD "Home to You"), and the perennial showstopper, "Love Makes Me Do Foolish Things." 
 Martha's story is a familiar one to legions of fans. 
 Soon after graduating from high school, she performed in clubs as "Martha Lavaille." One night, Motown A&R director Mickey Stevenson heard her and invited her to audition for the then-fledgling label.  The highly-motivated Reeves arrived the next morning. Upon learning that auditions had to be scheduled, she made herself valuable by answering phones and taking messages.  When people say she started at Motown as a secretary, Reeves corrects them, laughing, "I was never a secretary. I was a singer who could type."
 Reeves soon become an invaluable administrator, interacting with musicians and performers, scheduling sessions, and making sure that business was taken care of. And she waited her turn to sing. One day, when Mary Wells missed a session, Martha stepped up to the mic and got notice and a contract.  She left the A/R department to become one of Motown's most enduring and beloved stars.
 As classics never fade, new and diverse audiences are constantly being introduced to the Martha Reeves songbook.
 She has counted talents as diverse as James Brown and Beverly Sills among her singing  partners. Robin Williams spun "Nowhere to Run" in Good Morning, Vietnam. Her version of the Van Morrison rocker, "Wild Night" was featured on the Thelma and Louise movie soundtrack. The boys in The Boys In The Band and Whoopi Goldberg in Sister Act 2 partied to "Heat Wave." Everyone from Mick Jagger and David Bowie, the Mamas and the Papas, Dusty Springfield and the Grateful Dead have gone "Dancing In The Street." Singers such as Adele, Amy Winehouse, Florence Welch and Jennifer Hudson sing her praises. A few years ago, Will Smith and the producers of the movie Hitch mined Martha's vault of unreleased recordings to find her sublime "It's Easy (To Fall In Love With a Guy Like You)." Melanie Fiona sampled "Jimmy Mack" in her hit, "Please Don't Go (Cry Baby)."
 Moving beyond the confines of the concert stage, Reeves starred in a US tour of the Tony-winning "Ain't Misbehavin'", and has performed in road shows of "The Jackie Wilson Story" and "Good Black Don't Crack." She co-starred for three seasons in the UK stage review "Dancing In The Street," alongside Motown peers like the late Edwin Starr, Mary Wilson, and Freda Payne.  Following Starr's death in 2003, Reeves held the spotlight alone.  That same year, she made her opera debut singing with the Motor City Lyric Opera.
 Reeves is the recipient of the Dinah Washington Award, a Rhythm n' Blues Foundation Pioneer Award, a Black Woman in Publishing Legends Award, and has been inducted in the Alabama, Soul, Rock and Roll, and Vocal Group halls of fame. "Dancing in the Street" has been entered into the Library of Congress Registry of Historical Recordings and the Grammy Hall of Fame. Martha Reeves and the Vandellas are listed among Rolling Stone magazine's "100 Immortal Artists" and Martha herself was named one of the "30 Top Lead Singers of all Time."
 From 2005-2009, Martha served on the Detroit City Council, as an advocate for the city's seniors and fighting for the Motor City's educational and economic future. She continues to be an international ambassador for Detroit, making sure that you "can't forget the Motor City."