Cabaret

Set in 1931 Berlin as the Nazis are rising to power, Sally Bowles and a raucous ensemble from the seedy Kit Kat Klub invite you to leave your troubles outside. Featuring hit songs: "Cabaret" "Maybe This Time" "Don't Tell Mama"

Reduced pricing Thursday - Recommended 14+ for mature themes and risque costumes and dancing.


Event Showtimes:
Ages: 14+ Ages
TICKETS: Thursday  $35 / $43 / $55
           Friday-Sunday $39 / $49 / $65
TICKETS SOLD AT THE DOOR 30 MINUTES PRIOR TO THE SHOW ARE $5 MORE
TICKET SALES ARE NON-REFUNDABLE. SEE BOX OFFICE POLICIES
Wiki page: https://en.wikipedia.org/wiki/Cabaret_(musical)
Ziegfeld Theater: theziegfeldtheater.com
Cabaret Promo: WATCH ME!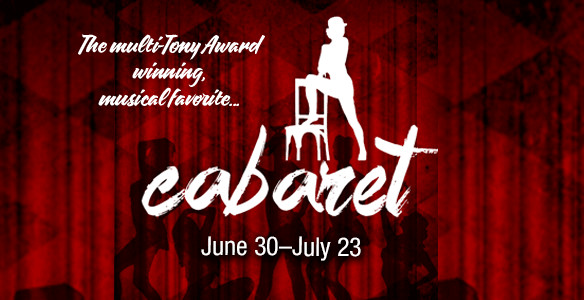 Cabaret is a musical based on a book written by Christopher Isherwood, music by John Kander and lyrics by Fred Ebb. The 1966 Broadway production became a hit, inspiring numerous subsequent productions in London and New York, as well as the 1972 film by the same name.
Cabaret takes place from 1929-1930, a time when Berlin, in the midst of a post-World War I economic depression, is transitioning from a center of underground, avant-garde cultural epicenter to the beginnings of Hitler's totalitarian regime and the rise of the Nazi Party. Into this world enters Clifford Bradshaw, a struggling American writer looking for inspiration for his next novel. On his first night in Berlin, Cliff wanders into the Kit Kat Klub, a seedy nightclub overseen by the strange, omniscient and gender-bending Master of Ceremonies, "the Emcee." Here, Cliff meets Sally Bowles, a vivacious, talented cabaret performer, and an utterly lost soul.
With hit songs:  "Cabaret"  "Don't Tell Mama" "Maybe This Time" "Mein Herr" and many more